Glenina Veterinary Patient Stories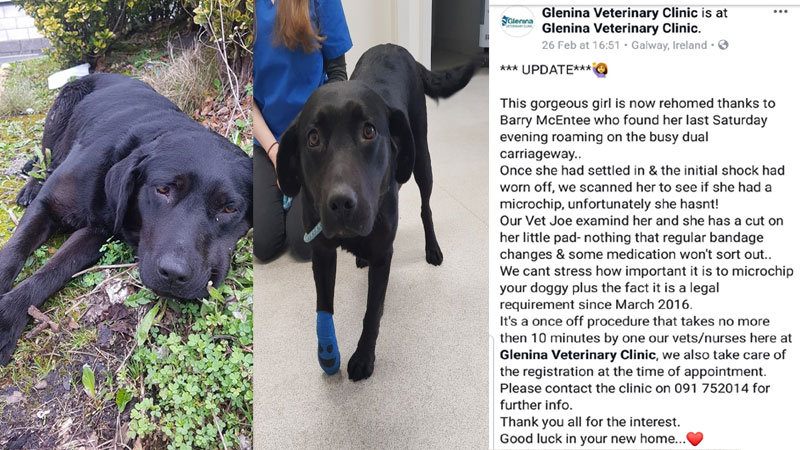 Local community & services working together – Finding "Lexi" a forever home
Glenina Vets prides itself on working alongside with local people from Galway City. On many occasions we have committed ourselves in helping out to the best of our ability in individual cases of animal welfare and neglect.
One particular case occurred in February 2019. The clinic received a call from a local man who came across a stray injured dog on the busy dual carriageway. We advised the finder to bring the injured animal to the clinic and we would treat accordingly. Once they arrived we treated the dog for shock and some superficial wounds on the body and paw. We scanned her for a microchip but unfortunately she didn't have one. We tried to source her home through social media but again with no luck!
And so this little lady was with us for five days to recover and to hopefully find her forever home.
After many days of care and treatment from the vets and nurses here at Glenina and with the aid of her kind finder we were able to re-home her. Lexi now has the dream forever home here in Galway City.
This is an example of how a good relationship between local community and services can have extensive positive outcomes.
The story of Lexi and the shared interest of her welfare is outlined below.
To whom it concerns,
On the 23rd of February while at work I came across a dog on our CCTV wandering out near the busy dual carriage way, the dog was seriously injured and weak and could barely walk. I ran out to the dog and she just collapsed on the side of the road.
I had rang a few places to see if they could help but got no answer until I eventually got through to Glenina Vets where they agreed no problem to taking this poor dog in.
I couldn't get over just how great every member of staff there was, they honestly couldn't have been more helpful. They took her in and didn't just care for her by fixing her wounds and patching her up, they also really took care of looking after her and went out of their way to ensure she was okay and that she knew she was safe now.
Even when I collected the dog to bring her to her new forever home the member of staff that was working got a little upset as she was leaving and that to me showed just how much care these people have for the animals that are left into them.
I honestly couldn't recommend Glenina Vets highly enough to anyone and if someone wants a place to leave their pet and have full confidence that they'll get all the care they need then Glenina is definitely the place to go.
Thanks to everyone at Glenina the black Labrador now has a new forever home and has a happy ending.
I can't thank them enough for all they did.
Mack – a complex clinical case
In July 2018 our vet Colm McGovern received an out of hours call from a distressed owner who noticed his beloved boxer Mack was a very sick dog. He was vomiting and his stomach was extremely swollen. The owner sent a video to Colm and it was agreed that urgent veterinary assistance was required.
When Mack arrived to the clinic he was assessed. On clinical examination he was diagnosed with Gastric Dilatation-Volvulus (GDV) where the stomach dilates because of food and gas and then twists. It is a rapidly progressive life-threatening condition of dogs.
Surgery was needed urgently. Due to the complexity of this procedure, our vet Joe – another member of the Glenina team – came in to assist Colm. The surgery took two hours and recovery for Mac was the next step.
With plenty of tender loving care and many follow up visits to the vets he was once again a happy dog!
However it happened to poor Mac again in January 2019. Colm again received the out of hours call from the owner at 1:30am in the morning. Urgent surgery was again required and vet Karl Darcy came to assist. As preparation was underway a farming client called to say he had a cow calving and needed a vet to call. Vet Eugene O'Malley stepped in and headed out to deliver the calf.
Due to the expansion of the practice and increased employment of vets and nurses over the years we can accommodate this amount of emergencies 24 hours a day 365 days a year.
Mac was put on intravenous fluids, underwent a general anaesthetic and the vets worked on him to return his stomach to normal position. He then had a gastropexy which means the stomach is sutured to the abdominal wall in order to prevent this condition from happening to him again.
Once Mac had recovered from the anaesthetic, was eating and in good form he went back to his delighted owner the next day.
Mac has been into us on numerous occasions for post op exams. We are delighted with his progress and even more delighted that he still wags his tail when he comes in to visit us.
We at Glenina Vets take pride in providing our expansive services to clients and look forward to continuing this in the future.
Hi Colm, Joe & Staff at Glenina Vets,
I just want to say thanks again for helping Mack, my 7½ year old boxer dog out again.
This is the third time ye have helped him out when he was in a bad way.
Once with his eyes and twice now in the early hours with major stomach surgery.
After this last bout of GDV in Feb '19, he is now doing great thanks to the top care he got with yourselves.